It looks like something out of a science fiction film, but it could be the way you get your very next aerial tour of Singapore.
In a world first, after two years of tests and collaboration with the island city-state and a decade of development of its technology, 'Volocopter' is set to make no-pilot air taxi services a reality.
While other...
---
It's made of an astonishing 10,000 western red cedar logs, and 'logs in' at a whopping 4-million cubic feet of volume.
Fairmont Le Château Montebello lays claim to being the biggest log building on the planet. A massive lobby and rotunda anchor four wings extending out in a star formation that's painted dramatic black on the outside, but retains its natural...
---
A year from now, one of the travel events of our lifetime will be over.
Not only will 2021 see the return to travel we've all longed for; on December 4th, 2021, a total solar eclipse will take place.
A total solar eclipse, where the moon passes between the Earth and the Sun, completely blocking out the sun for a short...
---
If this year's altered holiday celebrations left you wistful and nostalgic for full-bore Christmas festivities, there's a river cruise that gives you a chance for a re-do.
Christmas in July on the Danube comes without snow – but it does come with plenty of seasonal cheer on Uniworld's S.S. Maria Theresea.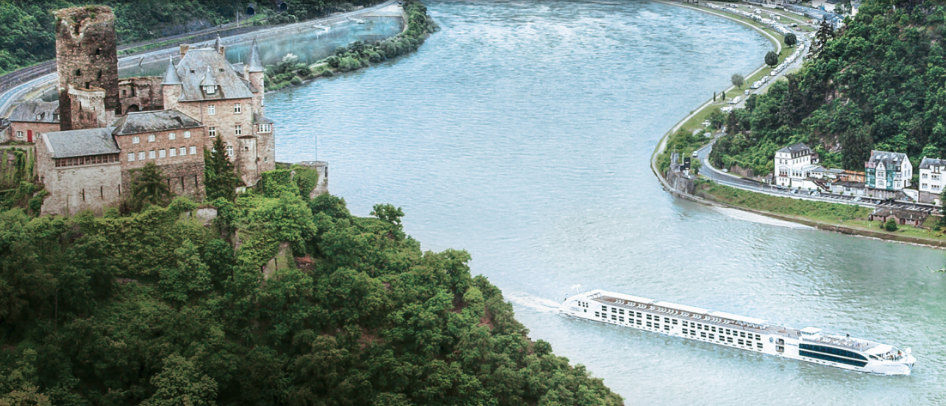 On two sailings in July, the Maria Theresea will...
---
We can't travel on a luxury cruise ourselves right now– or do many of the other things we love to do around the holidays - but "Let Them All Talk" lets us take an armchair escape during the break, and imagine ourselves along for a ride on one of the most famous ships afloat.
We couldn't ask for better company for our...
---
They are the essential train trips in Western Canada. Three rail routes that provide travelers a window onto the Rockies like no other way of travel.
Rocky Mountaineer operates bucket list rail journeys between Vancouver and the iconic Canadian Rockies towns of Banff, Lake Louise and Jasper.
They are train trips featuring a multitude of luxuries in the heart of the...
---
October was an extraordinary month for stargazers and amateur astronomers. One single month saw two full moons: a Harvest moon and a rare, second full moon – a blue moon.
But one other moon appeared in October too – Silversea's Silver Moon.

Sister ship to the ultra-luxury cruise line's Silver Muse, it's the 9th vessel for Silversea, and its second new...
---
Nothing is more luxurious than when things are extra simple and extra special. Now you can have that wonderful feeling that 'everything is taken care of' on your next big-ship cruise.
Celebrity Cruises has unveiled a new 'Always Included' program. Instead of differing promotions and packages, the cruise line is including unlimited drinks, unlimited wi-fi and even daily tips on all new bookings...
---
A passion for style, art, cuisine and living well. Capturing that iconic Italian way of life and the essence of Venice was the goal of the latest 'Super Ship' by Uniworld Boutique River Cruises.
The S.S. La Venezia, like all Uniworld ships, is more 'local boutique hotel' than 'river cruise ship'.
We often say that one of the attractions of cruising...
---
France. Italy. Spain. If you're imagining traveling again to Europe, you'll have no problem picturing yourself in any of three independent boutique hotels that have just opened in spectacular historic properties.
All three belong to the Small Luxury Hotels of the World group of over 500 independent and unique hotels in 90 countries. They all have special character and offer themes...
---